Andreas Gundersen
Composer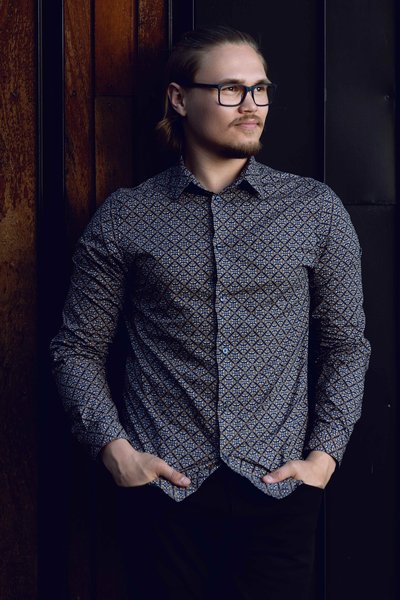 Andreas Gundersen
(b. 1993) is a Sámi pianist and composer from Deanu / Tana in Sápmi. He graduated from the Norwegian Academy of Music under the guidance of Wolfgang Plagge, and graduated as a soloist with an ensemble in works by Toshiro Mayuzumi, Ole Olsen and Eric Griswold. He has also been a soloist in Martin Hirsti-Kvam's "Concerto for Fortepiano" with BIT20 in Bergen, and is one of his generation's up and coming contemporary music performers.
As a composer, Andreas started writing music when he took lessons for the composer Rune Rebne at Toneheim Folkehøgskole. Later he has spent 3 years in private apprenticeship for Jon Øivind Ness, taken a year study in composition with Kjell Habbestad and Bente Leiknes thorsen at NMH and spent two years on the bachelor's program in composition at NMH under the supervision of Asbjørn Schaatun. In his composition, Andreas often seeks inspiration in symmetry, something you can see everything from harmonic to melodic structures in the music he writes. The Sámi are also very important to Andreas, and a large part of his artistic work has focused on trying to find different aspects of the Sámi culture to use in his compositions.
In recent years, Andreas has started working more and more as a studio producer in addition to working as a pianist and composer. He is currently working with several different artists / musicians such as: Irene Pettersen (from Tanabreddens Ungdom), Ann Jorid Henriksen (Sami artist), Ellinor Skartland (young Sami artist), Sara Marielle Gaup Beaska (from Adjagas and Árvvas), Lyder Øvreås Røed (trumpet) and more.
Andreas moved to the north during the corona pandemic from Oslo where he has studied and worked for 7 years. Now he has settled in the small Sámi village of Gohppi in Deanu / Tana, a choice that proved to be important to him personally. Here he has worked with music throughout the pandemic, connected stronger ties to his hometown and established new collaborations with artists, performers and composers in the north, and especially in Sápmi. 
Andreas is a member of the Norwegian Composers' Association 04.09.2020 and Sami Composers from 29.04.2021.