Sew Flunk Fury Wit
Theater and Opera Company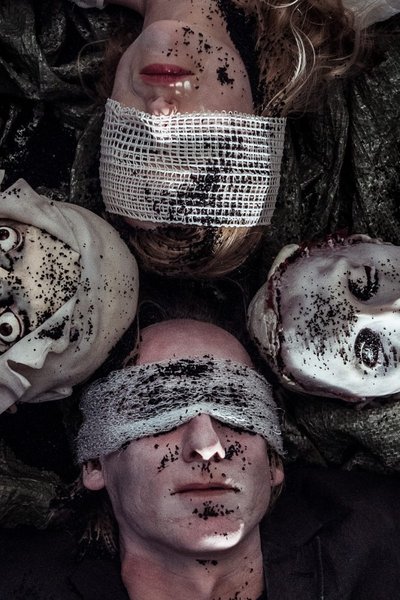 Sew Flunk Fury Wit is an experimental puppetry and performance theater which exploresnew music theater with elements of opera, neo-puppetry, and immersive theater in hybridforms. SFFW was formed by artistic director Svend E Kristensen in 2013 on the backdropof many years of producing and collaboration in the field of performance theater, sounddesign, dance, acting and a formulated neo-puppetry theory followed by puppetry developement 2001-2018.
The formation of SFFW is leaning towards collective methods of creating and exploring new music theatre production with elements of performance, opera and puppetry. Director and dramaturg Jesper Pedersen have since his harsh critic of the extraordinary neo-puppetry play with 3 hypernaturalistic life-sized female silicone puppets "Feinschmecker"by SFFW (2014), been a part of the core ensemble.
The future conceps are mostly formulated by Sv. E Kristensen and J. Pedersen. SFFW selects participants from project to project. SFFW is supported by the Danish Arts Counciland relies more or less on this fact for future funding.
Latest the play CRASH (2018), had live music, newly developed puppets in carbonfiberand silicones and a full size cut through car on stage. CRASH is intitled – a ghost story oflove and grief. CRASH is a provocative and innovative new music dramatic performance. Abreathtaking musical soundscape in fusion with neo-puppetry and opera, live cello &guitar. A sensual journey through human emotions and conditions, embraced by a sharpvisual scenography of light and wrecks. As a ghoststory on the fragility of life, CRASHboldly opens up to the viewer's personal experience of the borderland between life anddeath. The song-cycle music moves from noise guitar to cello, from opera to heavy metaland poetic pop. A performance which imprints strong and provocative sensual images inthe audience. ts a strong, emotional and controversial universe, resembling nothing else inthe present repetoire of new music dramatics in DK
STØV (DUST) 2016 was awarded by The Danish Arts Coucil 2016 SFFW with a prize forthe extraordinary hybrid new music theater play and the show was also nominated for thespecial prize at the official Danish Theater Awards which is extraordinary for a puppetryplay for adults in Denmark. STØV has since its premiere played international Festivals inDenmark (Puppetry Festival of Wonder – a critic was convinced it was the bestperformance 2017 ), Japan Iida City Puppet Festa 2017, Oslo Norway MusictheaterFestival, Helsinborg Sweden Nordic Baltic Festival Platform. STØV has toured Denmarkincluding opera festivals, concluding with a 7 days showing at The Royal Playhouse inCopenhagen, which was mentioned by a swedish critic from the city of Malmø as a mostnecessary and important show.
Both plays STØV and CRASH are participating in the international Music Theater Nowcompetition IETM MTN 2018.

SFFW are planning more international co-production in the future and projects to mentionare the scheduled international co-production "Corpo Surreal" with H. Art Chaos Japan andcollaborations with the University of Aalborg department of Arts and Science for the newinternational developement project The Fox Cave (supported by Bikuben Foundation DK)within the genre of immersive theater.
SFFW produce its performances with english text by American - Danish lyricist NeillCardinal Furio for touring both internationally and in the home country of Denmark.