Thrymskvida
Norðurljós · 26/10/18 at 8:00 PM
Norðurljós · 27/10/18 at 8:00 PM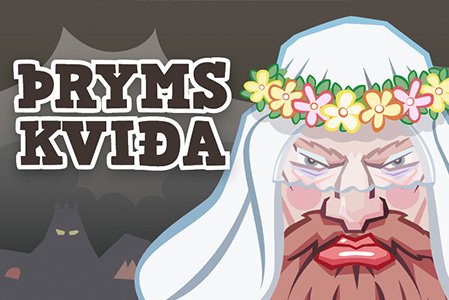 The comical opera Thrymskvida by Jón Ásgeirsson will be performed at the Performing Arts Center "Harpa" on 26th and 27th of October 2018. Eight soloists, The University Choir of Iceland and the Iceland Youth Symphony Orchestra are taking part in the performance. Gunnsteinn Ólafsson is the conductor and the director will be the opera singer , Bjarni Thor Kristinsson.
Thor discovers that his hammer Mjolnir has been stolen! Thrym, the god of giants, claims the goddess Freyja instead of giving back the weapon. Freyja refuses and Thor must go disguised as the female deity to Thrym, accompanied by the god Loki.
Performers
Thor – Guðmundur Karl Eiríksson
Thrym – Keith Reed
Freyja – Margrét Hrafnsdóttir
Gríma – Agnes Þorsteinsdóttir
Heimdall – Thorsteinn Freyr Sigurdsson 
Loki – Eyjólfur Eyjólfsson Tenor
1. god – Gunnar Björn Jónsson
2. god – Björn Þór Guðmundsson
Gods and Giants – The University Choir of Iceland
Iceland Youth Symphony Orchestra
Conductor: Gunnsteinn Ólafsson
Stage director: Bjarni Thor Kristinsson opera singer
The performance of Thrymskvida is in honor of (takes place due to) the 90th anniversary of the composer Jón Ásgeirsson and the centenary of Icelandic independence and sovereignty. Trymskvida is the first Icelandic opera, premiered in 1974.
Tickets available at Harpa and here
Þátttakendur