Love a nervous breakdown
Norðurljós, Harpa · 28/10/23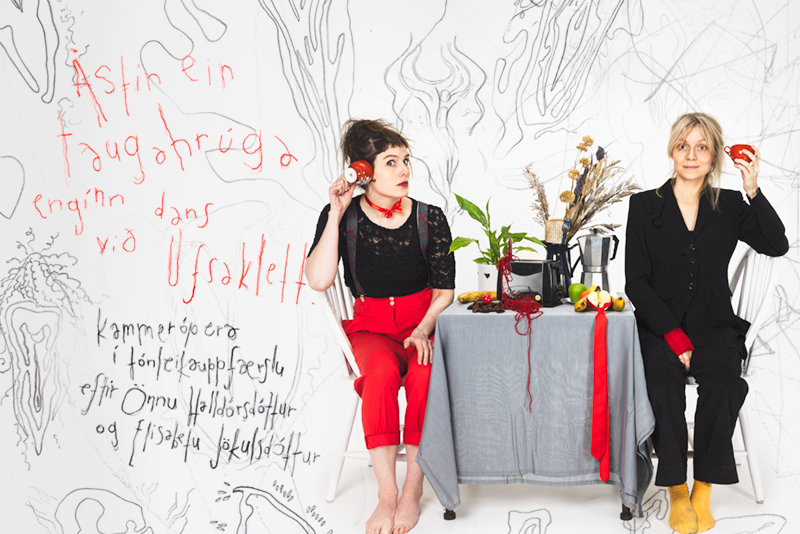 Ástin ein taugahrúga, enginn dans við Ufsaklett" (Love a nervous breakdown, no dance at Ufsaklettur) is a new chamber opera by Anna Halldórsdóttir composed to a book of poetry by Elísabet Jökulsdóttir, which will be performed in a concert version at Norðurljós in Harpa the 28th of October. The piece is written for a mezzo-soprano and a cellist and is produced by Spindrift Theatre. Performers are mezzo-soprano Tinna Þorvalds Önnudóttir and cellist Júlía Mogensen

Elísabet's poetry is both sung and spoken and the cellist is an active participant in the storytelling, which balances on the line between music and theatre.

What does one do to fit in? To belong? The piece is a coming of age story of a woman and the struggle between her dreams and reality. This struggle is presented through a violent relationship that is followed from start to finish, and we wonder: what is it that makes one "a real woman" - and where is the real key to the whole thing?

The protagonist has bipolar disorder which colours the performance so that it becomes a rollercoaster between ecstasy and depression. But whether she is at the top or at the bottom, humour is never far away. The poetry is at once mundane and highly dramatic and the opera form fits them incredibly well. It lifts up the drama and then the mundane becomes very clear and comical when it shines through. Anna's music gives the texts a new dimension and is both catchy and accessible. It appeals to a wide group of people, both to opera enthusiasts as well as people who have never listened to opera before.

Elísabet's book of poetry with the same name received the Women's literary award in 2015 and was nominated to the Nordic countries literary awards the same year.
The piece was priorly performed at Dark Musicdays in January this year and the audience reaction was strong.
Here are examples of a few of them, aswell as the reaction of the poet herself:

"Ástin ein taugahrúga, enginn dans við Ufsaklett, the cello is played beautifully and Anna Halldórsdóttir creates the music. I went to the premier and what a quality performance, dramatic, humorous, professional and fun. Tinna Þorvalds Önnudóttir played the main role, she was brilliant and I am over the moon ... The heart warmed up and there by the laws of physics it enlarged.

It was wonderful to see and hear my poetry come to life."Elísbet Jökulsdóttir, writer and poet

"The chamber opera Ástin ein taugahrúga is truely a great addition to the opera scene. It is very clever to mix together electronic sounds and live music. The whole performance was first class and especially the singer's ponounciation of the text. The staging created a deep connection with the subject, with a humorous twist which fits the poetry well and the whole performance was characterized by intimacy and warmth."
Ólöf Ingólfsdóttir, artist

"Ástin ein taugahrúga is a haunting piece which sat with me for a long time afterwards. It is at once sincere and dramatic but at the same time hilarious, a journey through the whole scale of emotions. The music is catchy and and fits well with Elísabet's texts and the performance is great. I completely recommend."
Eyrún Ósk Jónsdóttir, poet and stage artist

"Great idea to create an opera out of Elísabet Jökulsdóttir's poetry! And wonderful to see what a success it is. Anna's music is beautiful and well composed and Tinna and Júlía performed it with great artistry."
Snorri Sigfús Birgisson, composer and pianist
Creative team:

Mezzo soprano: Tinna Þorvalds Önnudóttir
Cellist: Júlía Mogensen
Composer: Anna Halldórsdóttir
Poet: Elísabet Jökulsdóttir
Director: Bergdís Júlía Jóhannsdóttir
Producer: Arna Kristín Sigfúsdóttir
Light design: Juliette Louste
Dramaturgs: Tinna Þorvalds Önnudóttir, Anna Halldórsdóttir and Bergdís Júlía Jóhannsdóttir
Participants